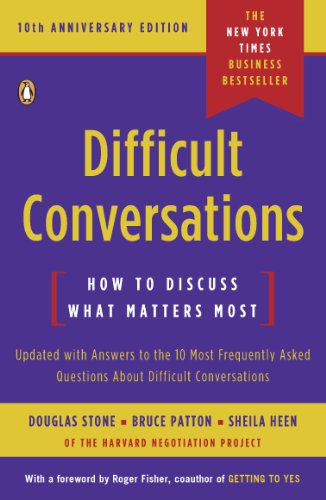 Douglas Stone, Bruce Patton, Sheila Heen
Difficult Conversations
How to Discuss What Matters Most
Get it on Amazon
We attempt or avoid difficult conversations every day-whether dealing with an underperforming employee, disagreeing with a spouse, or negotiating with a client. From the Harvard Negotiation Project, the organization that brought you Getting to Yes, Difficult Conversations provides a step-by-step approach to having those tough conversations with less stress and more success. you'll learn how to:
Decipher the underlying structure of every difficult conversation
Start a conversation without defensiveness
Listen for the meaning of what is not said
Stay balanced in the face of attacks and accusations
Move from emotion to productive problem solving.
Decoding Difficult Conversations with Sheila Heen
In this episode of the Knowledge Project Podcast, Shane Parrish speaks with Sheila Heen about how we can approach difficult conversations.
Difficult Conversations Quotes
"We don't outgrow difficult conversation or get promoted past them. The best workplaces and most effective organizations have them. The family down the street that everyone thinks is perfect has them. Loving couples and lifelong friends have them. In fact, we can make a reasonable argument that engaging (well) in difficult conversation is a sign of health in a relationship."
---
"Why is it so difficult to decide whether to avoid or to confront? Because at some level we know the truth. If we try to avoid the problem, we'll feel taken advantage of, our feelings well fester, we'll wonder why we don't stick up for ourselves, and we'll rob the other person of the opportunity to improve things. But if we confront the problem, things might get even worse. We may be rejected or attached, we might hurt the other person in ways we didn't intend; and the relationship might suffer."