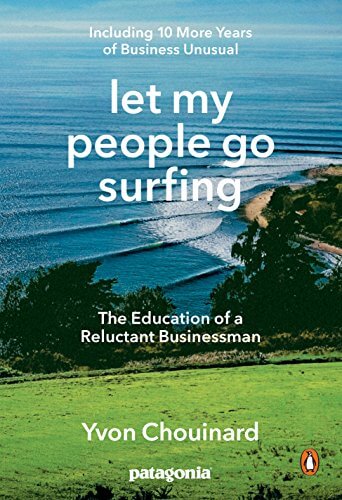 Yvon Chouinard
Let My People Go Surfing
The Education of a Reluctant Businessman--Including 10 More Years of Business Unusual
Get it on Amazon
In this newly revised 10th anniversary edition, Yvon Chouinard – legendary climber, businessman, environmentalist, and founder of Patagonia, Inc. – shares the persistence and courage that have gone into being head of one of the most respected and environmentally responsible companies on earth.
From his youth as the son of a French Canadian handyman to the thrilling, ambitious climbing expeditions that inspired his innovative designs for the sport's equipment, Let My People Go Surfing is the story of a man who brought doing good and having grand adventures into the heart of his business life-a book that will deeply affect entrepreneurs and outdoor enthusiasts alike.
The Education of a Reluctant Businessman with Yvon Chouinard
Yvon Chouinard, legendary climber, businessman and environmentalist, is the founder and owner of one of the world's most inspiring companies, Patagonia, Inc. Mr. Chouinard talks about his personal history, how he created Patagonia, and the philosophy he uses to run the company.
Let My People Go Surfing Quotes
"Remember, work has to be fun. We value employees who live rich and rounded lives. We run a flexible workplace, and we have ever since we were a blacksmith shop that shut down whenever the waves were six feet, hot, and glassy. Our policy has always allowed employees to work flexible hours, as long as the work gets down with no negative impacts on others … The has led to our Let My People Go Surfing flextime policy. Employees take advantage of this policy to catch a good a good swell, or go bouldering for an afternoon, pursue an education, or get home in time to greet the kids whey they climb down from the school bus. This flexibility allows us to keep valuable employees who love their freedom and sports too much to settle for the constraints of a more regimented work environment. We've found that rarely has an employee abused that privilege."
---
"Doing risk sport had taught me another important lesson: Never exceed your limits. You push the envelope, and you live for those moments when you're right on the edge, but you don't go over. You have to be true to yourself; you have to know your strengths and limitations and live within your means. The same is true for a business."