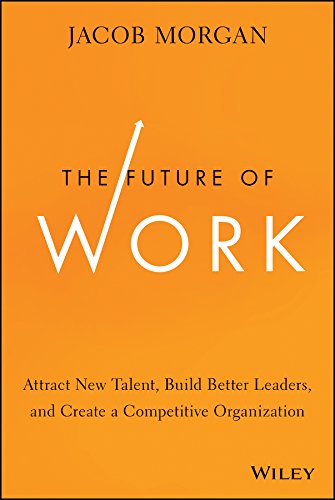 Jacob Morgan
The Future of Work
Attract New Talent, Build Better Leaders, and Create a Competitive Organization
Get it on Amazon
Throughout the history of business employees had to adapt to managers and managers had to adapt to organizations. In the future this is reversed with managers and organizations adapting to employees. This means that in order to succeed and thrive organizations must rethink and challenge everything they know about work.
The demographics of employees are changing and so are employee expectations, values, attitudes, and styles of working. Conventional management models must be replaced with leadership approaches adapted to the future employee.
Organizations must also rethink their traditional structure, how they empower employees, and what they need to do to remain competitive in a rapidly changing world.
This is a book about how employees of the future will work, how managers will lead, and what organizations of the future will look like.
The Future of Work will help you:
Stay ahead of the competition
Create better leaders
Tap into the freelancer economy
Attract and retain top talent
Rethink management
Structure effective teams
Embrace flexible work environments
Adapt to the changing workforce
Build the organization of the future
And more.
The book features uncommon examples and easy to understand concepts which will challenge and inspire you to work differently.
Jacob Morgan: How to Future Proof Your Career
Jacob Morgan gives a talk on how we can navigate a world of work where job security doesn't exist.
The Future of Work Quotes
"Time and time again we hear that employees work in new ways, that managers are using outdated approaches, and that organizations have to change the way they operate. It seems as though everyone knows this. But what exactly are the changes that employees are bringing into the workplace? What do they look like? What are some of the outdated management practices being used today and what do new approaches look like? If organizations are to rethink how they are constructed and operate then what do those new ideas actually look like?"
---
"The world is changing so quickly that by the time new college students graduate, much of what they have learned is far less relevant and in many cases just obsolete. This means knowledge and experience are no longer the primary commodity.
Instead, what is far more valuable is to have the ability to learn and to apply those learnings into new and unique scenarios. It's no longer about what you know, it's about how you can learn and adapt."